Posted on: January 13th 2021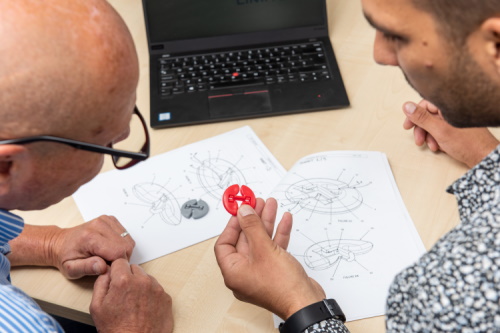 Handy Ltd, a leading supplier of bedding and upholstery components, has become the latest organisation to join the fight against design theft, becoming a member of Anti Copying in Design (ACID).

The design industry's estimated worth is over £72 billion to the UK economy, but 97% of SMEs admit not to having an Intellectual Property (IP) strategy which could protect them from any infringements of design fraud.

ACID is the UK's design and intellectual property campaigning trade association, set up in 1996 to protect designers and manufacturers from design theft by providing cost effective tips, advice, and guidelines to help members protect their IP.

With a range of over 1,300 products and a bespoke product development service, Handy joined ACID to demonstrate its commitment to protecting the industry and itself against design fraud.

Nick Harland Smith, Managing Director at Handy Ltd, said; "Not only do we work with some of the leading suppliers to the industry, In the past 30 years we have invested heavily into bespoke product development, answering to individual requests from our customers as well as developing our own innovative new components to respond to the specific needs of bedding and upholstery manufacturers.

"That's why we have decided to become a member of ACID who are doing a fantastic job to protect and support designers and manufacturers against design and IP fraud in the UK."

To ensure manufacturers are fully clued up on the risks of design-fraud and IP protection, Handy has produced a checklist of things designers and manufacturers should consider before developing a new product.
Have you done your product research? – when coming up with a new product, make sure you check the market first to see what is currently out there and has already been done.

What is your product's unique selling point? – what makes your product different to those that are currently out there on the market? This could be a new or improved functionality or simply the aesthetics of a product.

Have you spoken to an IP professional? – you may want to consult an IP professional to fully understand the best approach to protecting your designs and product. ACID has a fantastic hotline for those looking for general advice.

Have you got an IP strategy in place? – the costs of IP can vary depending the type of design and lifespan of the product. An IP strategy will not only help you protect your designs, but also plan and prepare for the associated costs over the lifespan of a product.

Have you considered working with a design / manufacture partner? – If you are new to product design and development you may want to work with a trusted supplier within your specific industry. If you are a manufacturer within the bedding and upholstery market, then Handy can help you to design and develop and then IP protect components that meet your specific manufacturing needs.
Nick added; "Our IP library, developed over many years, is a valuable business asset. Innovation is needed to drive bedding and upholstery manufacturers forward, speeding up manufacturing processes, enhancing the aesthetics of a product, and adding improved functionality. To achieve this innovation, designers need to be fully aware of the rules and regulations surrounding IP protection."

Dids Macdonald OBE, CEO of ACID, said; "We are very pleased to have Handy Ltd join us as a corporate member and to proactively raise awareness of our campaign against design fraud. It's important that designers and manufacturers research and plan their IP strategies to future proof their designs and protect themselves against fraud."